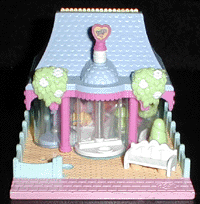 Polly is always very careful about her appearance. She takes a shower or bath (See
Bathtime Fun
, 1991) each day. She likes a bath the best...it feels so good to relax in the nice warm water with bubbles all around her.
Once a week, Polly visits her friend, Pixie, at her hair salon where Polly has her hair shampooed and set (
Polly's Hair Salon
, 1990). She and Pixie chat while Polly's hair is drying.
She often goes shopping after her beauty treatment. She has two favorite dress shops. One is on the mail street of Pollyville (See
Magical Movin' Pollyville
, 1996). The other is close to Polly's home (See
Dress Shop
, 1995) to say hello to another friend, Alexia, and look at the lovely display of hats, dresses and skirts!